In its current form, the MacBook Air is dated. It wields a similar design to the one its held onto since 2010, two years after its initial conception. It also clings to an older processor and lower screen resolution than those used by more contemporary options, such as the 12-inch MacBook and the 13-inch MacBook Pro. For the time being, however, the MacBook Air is the most affordable way to experience the illustrious operating system, macOS High Sierra, on a laptop.
In due time, that could all change. As shaky as the site's credibility may be historically, an analyst from DigiTimes has said that a 13-inch Retina version of the MacBook is on the way that could challenge the existing MacBook Air's price point. That report came only a week after KGI Securities analyst Ming-Chi Kuo claimed that a cheaper MacBook Air is set to launch in the second quarter of 2018.
That said, the MacBook Air we've reviewed here is still your best option for now. Although it's in dire need of a re-tooling, let it be known that it'll get you by as-is for the time being. For future reference, keep your peeled to this page, as we keep it updated with the most recent pricing information and availability details related to the MacBook Air as we know it.
Price and availability
While the MacBook Air model sent to us for review was maxed out with the highest specs you could get at the time of its original writing, it can currently be had in a variety of configurations.
It still starts at the comparatively humble amount of $999 (£949, AU$1,499), but now you're looking at a 1.8GHz Intel Core i5 processor, 8GB of RAM and 128GB of SSD space for that price.
Should you be interested in stepping its game up, you can upgrade the processor to a 2.2GHz Intel Core i7 CPU and 512GB of storage for a pretty penny more. For that, you're looking at a price tag of $1,549 (£1,384, AU$2,339).
That's a higher asking cost than an up to date MacBook Pro for a frankly older set of components (the MacBook Air uses a 5th-generation Intel processor as opposed to the MacBook Pro's 7th-gen chip), but it might tempt those who crave lots of storage and a longer battery life.
Design
By and large, the MacBook Air generally looks the same as it has since 2010, and there don't appear to be any changes in tow, either. That's a shame, particularly because we're now seeing virtually bezel-less laptops with smaller footprints and high resolution screens that dismally put the MacBook Air in its place.
Forget the Dell XPS 13's physics-defying InfinityEdge display, which is lightyears ahead – even Apple's 13-inch MacBook Pro with Retina, once seen as slightly tubby compared to the Air, has a smaller footprint and takes up slightly less space on your lap.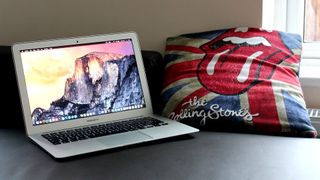 Yet, the old 'if it ain't broke' mantra applies – at least to a point. The MacBook Air's aluminum unibody design, which supports the main enclosure and the display, is as durable as ever. Its lid can be easily raised with a single hand and doesn't droop in any position, and you have to press really hard to detect flex on the machine's base or lid.
It's also easy to clean with a damp cloth. If there's one drawback, it's that the aluminum body can scratch easily to leave permanent black marks, so you should consider buying a sleeve if you're going to sling it into a bag for transportation.
Gabe Carey has also contributed to this review